Luxury, comfort, and style are some of the easiest ways to describe the new 2022 Genesis G70. With the latest G70, drivers can expect to find a redesigned version of the previous model. Both on the inside and the outside, the G70 offers a somewhat sportier yet certainly trendier look that exudes luxury.
Redesigned Exterior
Let's start off with where you'll see the most changes, the body. On the exterior, the first thing that'll catch your eye is the redesigned crest grill which is a bit larger than the previous model. Despite its size, it's not as overbearing as you might think, especially for an entry-level luxury sedan.
The grill helps define the signature look of the Genesis and mimics the style of its siblings, the G80 and G90. The front and back also get a refresher with their quad headlights and quad backlights which help give the G70 a rather distinct look. The exterior enhancements allow the G70 to stand on its own as it offers that sleek modern luxury look with a touch of sportiness.
Interior Touch Ups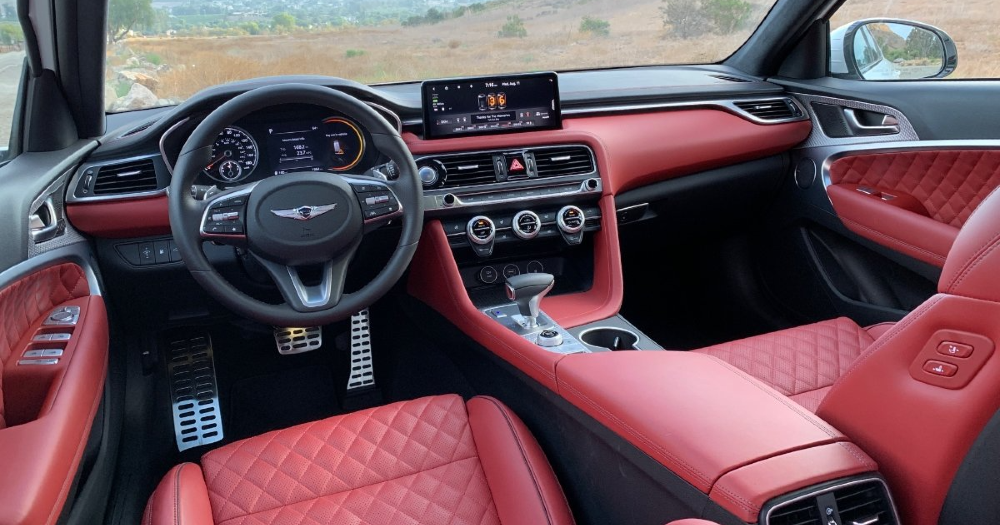 Speaking of sporty edges, when you hop into the 2022 Genesis G70, you'll find an interior that features sporty seating and a sleek dash. Not much has changed in the interior, but you'll see a more polished look especially when it comes to the center console. The entertainment system of the 2022 G70 also gets a bit bigger and seemingly more user-friendly, as it offers some of the latest tech features.
Engine, Power, and Performance
Unlike its predecessor, Genesis will no longer offer a manual six-speed transmission on its 2022 model. Seeing as the previous model saw fewer sales than expected in its manual powertrain, Genesis decided to skip over the option in 2022. Despite this, drivers can still look forward to unmatched power.
The G70's Standard and Prestige trims tout an eco-friendly but equally powerful 2.0L turbocharged four-cylinder engine delivering 252 horsepower thanks to its eight-speed automatic transmission.
For more power, drivers can bump up to the 3.0L V6 turbocharged engine offered in the Standard, Sports Advanced, Sports Prestige, and Launch Edition models. The 3.0L turbocharged engine can send you zooming 60 mph in under 4.7 seconds. Handling and performance are smooth and steady no matter where your adventures take you.
Drivers can especially look forward to a really comfortable feel behind the wheel thanks to the smooth steering and responsive suspension. When selecting a powertrain, drivers will have the option between all-wheel drive or rear-wheel drive as well.
Boost Your Experience with the Prestige Package
Drivers can select between a Standard or Prestige package option. The standard package offers classic 18-inch alloy wheels, a 10.25-inch touch screen navigation system, and safety features including forwarding Collision-Avoidance Assistance with Junction Turning.
For a bump up in comfort and experience, The Prestige package enhances the look of your G70. An impressive Lexicon 15 speaker audio system helps amplify your experience while you drive. You can also expect a wide sunroof and 19-inch alloy wheels to help complement the look of the exterior.
When it comes to picking up the model that suits your style, the interior offers you two luxury color options, Obsidian Black and Sandstorm Gray. On the exterior, however, there are 12 sleek colors drivers can opt for instead.
The hype around Genesis has caused many drivers to take some time to adjust and accept the latest addition to the world of luxury vehicles. However, with their expanded lineup and ever-impressive performance packages, Genesis has become a rival to contend with. The 2022 Genesis G70 is the perfect mix of luxury, comfort, and performance. Dream no more about your own G70 and reserve your Genesis G70 today.
This post may contain affiliate links. Meaning a commission is given should you decide to make a purchase through these links, at no cost to you. All products shown are researched and tested to give an accurate review for you.