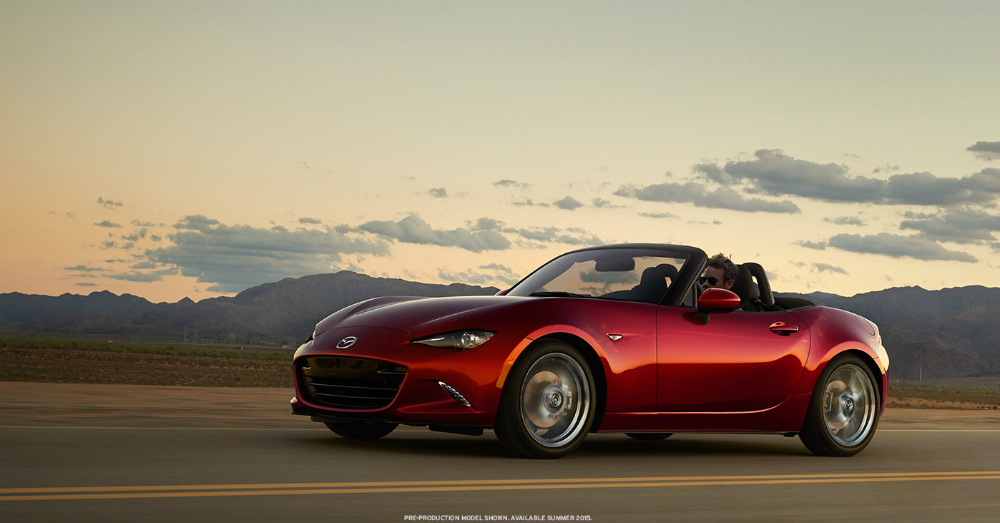 One of the joys of shopping for and selecting a new car is the new car smell.  It smells like a new beginning in a model that certainly offers the feel and enjoyment you want.  Not only is it great to enjoy that smell, but when you see an odometer that has only a small number of miles on it as a result of a few test drives you get excited.  If it's time for you to consider a new vehicle for your daily driver or for your weekend special here are ten that come to mind which just might fit the bill.
Mazda 6 – For this new model year the Mazda 6 gains a great deal of upgrades including the new MazdaConnect infotainment system and a head up display.  The Mazda 6 has been a favorite for many years at the size we want to drive that comes with an enthusiastic engine to get you going.  With some great creature comforts you can certainly be proud to drive the Mazda 6; it's a car that gives you some of the best of every feature at a very reasonable price.
Mazda MX-5 Miata – This is the car made for fun.  In fact it should just be renamed to be the Mazda Fun instead of Miata.  Even though it does not offer massive power, because it doesn't need to, the Miata is a great drive.  The handling and dynamics of the car make it one of the best roadsters on the market.  The Miata comes at a price that is affordable for nearly everyone which ensures more of us can have the fun that a Miata provides.
McLaren 570S – If there is such a thing as a bargain McLaren this is it at the base price of $188,000.  Even though the price is high, this is one of the more affordable supercars on the market and the 562 horsepower churning from the V8 engine should certainly be more than enough to let you have a lot of fun on any track.  The handling is dynamic and the car is made for aerodynamics, making that horsepower feel like a lot more when you really test this car.
McLaren 650S/675LT – With 641 horsepower for the 650S and 666 for the 675LT this is the model McLaren is based on.  Covered in carbon fiber and offering a massive amount of elements that push the car to the ground as well as let it cut through the wind with ease as well.  If you are willing to part with as much as $350,000 this is a car you can certainly enjoy on the track knowing very few other cars can even keep up.
Mercedes-AMG GT/GT S – You might expect this car to be a touring model with the GT designation, but it's a serious sports car that is ready to compete with the Porsche 911, Jaguar F-Type and Nissan GT-R.  We will enjoy the fun of the GT starting in the spring while the GT S is already at dealer lots for you to take a ride and see if this is the car for you.  At 456 and 503 horsepower and offering a Mercedes-Benz ride this car is certainly hard to beat.
Mercedes-Benz B-Class Electric Drive – You might want some luxury in your zero emissions car and this is the way to make sure that can happen for you.  There is no gasoline back up which means you have to stay in the city, but that can be a great choice and not a detriment to your driving as you can certainly take advantage of all the Mercedes- Benz engineering on this car that has a range of sixty miles on a single full charge.
Mercedes-Benz C-Class – This list of trim levels shows you a car that is highly versatile even though it only comes in the sedan body style.  The C-Class offers a high performance model of the AMG along with a fuel sipping alternative in the Plug-In version.  The beauty is all of them come with what you want and demand from Mercedes-Benz which is exceptional luxury in a car that offers a great deal of fantastic features and a beautiful ride.
Mercedes-Benz CLA-Class – This car is in its third year which means only a few upgrades but it does have an Orange edition that will have a 750 unit run along with a new Night package.  Add in the ambient lights, a selective damping system and a contrasting color stitching in the MB Tex upholstery.  As a car that can be made to order or enjoyed at a base model the CLA- Class fits a wide range of shoppers on the market today.
Mercedes-Benz CLS-Class – Heading up the model lineup this is a larger and more fun-filled sedan than some of the others from Mercedes-Benz.  With the power and engagement of the powertrain that features a 329 horsepower V6 and a nine-speed automatic transmission there is no way you won't enjoy the ride of this awesome Benz.  This car has been known to turn many Beemer fans over to the three point star.
Mercedes- Benz E-Class Coupe/Convertible – When you want an amazing two-door model to drive this is the right choice.  The E-Class comes in coupe and convertible forms for you to have a car that is powerful and engaging on the road.  You might not ever listen to music as you enjoy the hum of the engine, but if you do, the cabin is a quiet oasis away from the massive craziness that can be found on the road outside.  With the convertible you can have a dramatic exit from any scene.
Certainly there is a variety of models on this part of the list for you to choose from.  Whether you are looking for a great luxury car, need a super sport for the weekend track time or you know a sensible buy when you see one the car for you is out there just waiting for you to meet and start driving together.