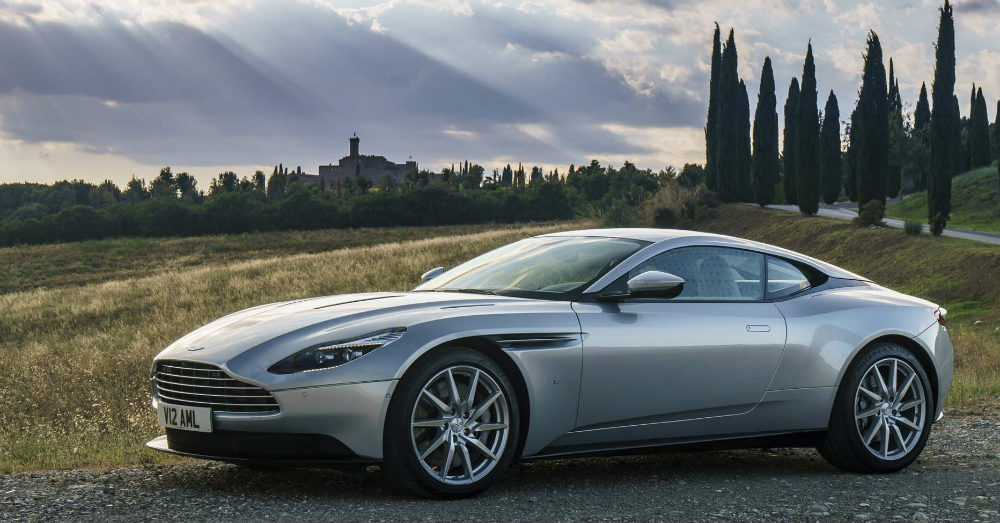 The perfect car to drive on the roads throughout Europe is also the one that you want to drive across the US. This is a car that comes from the lineage of vehicles that has made its way to the silver screen in the James Bond movies that reach back to the sixties. This car is newly crafted for 2017 and has the ultra-luxury appearance and feeling that you want on the road, especially if you have the money to spend on something as posh and as elegant as the new Aston Martin DB11.
This car offers you the continued impressive benefit of a big engine and a set of three-mode adaptive dampers that offer you the comfort and prestige you want. Even though this amazing car is built with four seats, you won't want to share this beauty with more than one other person on your way to a great adventure that you certainly will hope ends in the same area that James Bond ended many of his adventures with the ladies he starred with on the screen. This car is right for the road and offers you the sleek, elegant, sexy and sophisticated way to drive and have the ride you've been after.
As you drive around in the new DB11 you should expect to have people look and stare at your car as they expect it to open fire on the car in front of you, take off on a wild ride chasing down the villains or being the way that you leave the scene after you've been victorious. Although you're not likely to experience any of these things, you will have the looks from others around you that will want to know about your car and wonder what you do for a living that makes it possible for you to own such an amazing vehicle.
The new Aston Martin DB11 comes to you with only one powertrain under the hood to give you the quality drive and the performance you want to enjoy on the road. This starts with a strong 5.2-liter turbocharged V12 engine that pumps out a full 600 horsepower and 516 lb.-ft. of torque to give you the quality ride you're after. This power is pumped through an eight-speed automatic transmission to give you the quick shifting you want and the controls you need to make the drive as refined or as engaged as you want to enjoy on the road.
The cabin of the new DB11 is perfectly built and laid out in order to give you the most impressive place to sit and drive from. The long and smooth look of this glorious car leaves room for you to have a high-quality place for you to have the perfect ride you want to enjoy on the road. You'll have items such as front and rear parking sensors, a 360-degree camera system, a dual-zone climate control system and an eight-inch infotainment system to give you what you're looking for in a car that's as spectacular as this one.
When you have a car that reaches up and is built at this level of perfection you will have some impressive options to have in the car you want. This one offers you ventilated seats, a powered armrest, several different ways to have the vehicle customized in and out, a 1,000-watt Bang & Olufsen audio system, a gesture control touchpad, dynamic cruise control, forward collision warning alerts, lane keep assist and much more to give you the items you want to have in this amazing vehicle.
If you have the ability to buy a car that comes straight off the screen and would have been driven by your favorite British spy, you certainly need to do it. The new Aston Martin DB11 will give you a high-quality ride and the comfort and control aspects you want to have in order to enjoy the perfection you can have on the road or at the track. This is a car you have to get behind the wheel and take for an amazing ride out on the roads to see what it can be for you and how it will bathe you in perfect luxury.
This post may contain affiliate links. Meaning a commission is given should you decide to make a purchase through these links, at no cost to you. All products shown are researched and tested to give an accurate review for you.