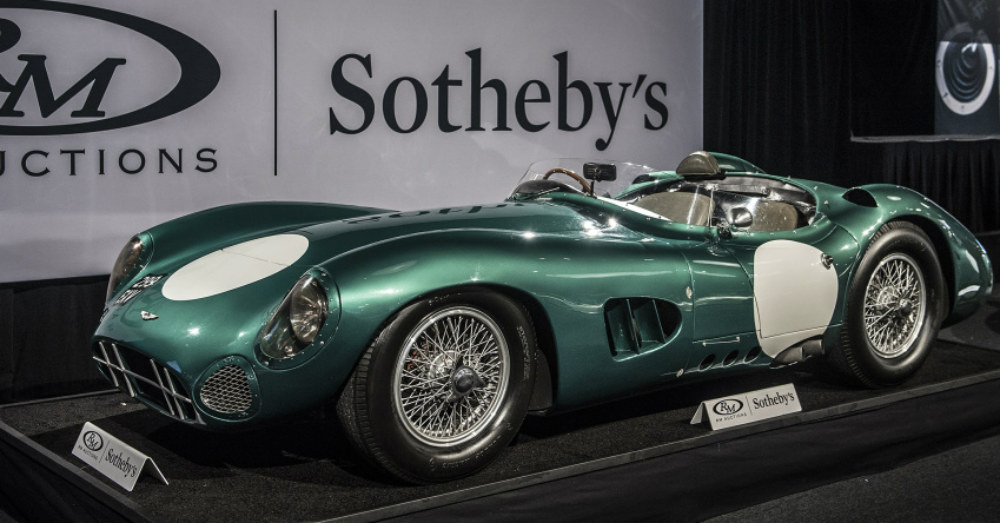 If you want to see some of the rarest and more unique cars on the planet you need to see the cars that are offered at auctions each year. You don't want to attend just any auction, the one you will want to attend will have a collection of high priced cars that are admired as some of the rarest on the market for you to view and admire. One company that always puts on a great show is RM Sotheby's, but you can also find excellent view selections with Mecum, Gooding and Co., and Auctions America.
Check out a few of the most impressive models that will be offered at auction this season:
1956 Aston Martin DBR1 – This racing version was one of the most important cars in the history of the Aston Martin name and was piloted by drivers that include Stirling Moss and Carroll Shelby. This car is in perfect condition with its reproduction engine that is called the "works" engine. With this engine under the hood, this car was able to win the Nurburgring 1,000-km race in 1959.
1953 Abarth 1100 Sport – This was the only version of this car ever built and it was made by the coachbuilder Ghia. This rare car is one that was powered by a V8 drivetrain at one point and it's even gone through different degrees of disrepair. The restoration took five years to complete and it's now a perfectly restored model that can be the pride of any collection.
1970 Porsche 917 – This unique Porsche race car is one that has made its way to the silver screen with Steve McQueen behind the wheel. This car even ended up in a storage facility in France because of the original owner, Jo Siffert, died shortly after filming of the movie it was in had completed. This car has been completely restored and can be one that can be the subject of many conversations.
1980 Buehrig Carriage-Roof Coupe – As a car that harkens back to the days of the 1930s and 1940s, this car leaves a lot to be desired but can be that ugly car that someone will pay a hefty price for. This car is a custom-bodied 1980 Corvette that looks interesting and certainly looks like something unique, but it is a car that most will probably take a pass on at auction, but someone will buy it.
1950 Ferrari 166mm "Uovo" – This car may be one that starts with the words you want to hear such as Ferrari, V12 and 1950, but this car is not what you would expect to see. The body was built by Carrozzeria Fontana and is certainly one of the ugliest cars to ever come from the brand that we've known and loved for a large number of years. This will certainly garner some interest at the auction.
1965 Peel Trident – This little car looks like one of the spaceships from the Jetson's cartoon and it is one that can give you 100 mpg. This little egg-shaped car is interesting to look at and it's going to auction where someone may want to add it to their collection, but it certainly isn't what you expect when you're looking at cars that are heading to some of the highest auctions in the land.
1955 Mercedes-Benz 300SL Gullwing and 1957 Roadster – This is a pair of original sports cars that have been together for the past sixty years. Purchased originally at the time these two may be broken up at auction, but hopefully, won't. As a pair of the most iconic cars ever built both have original miles on them that are low enough to let you know these are special cars.
1936 Rolls-Royce Street Rod – This car may take a special person to want it, but with the Rolls-Royce, aspects throughout and the power of a Chevy 454 engine this is a hot rod that's been dolled up and polished to be inspired by early aircraft and some of the most amazing cars on the planet. This may be one of the best finds at the auction for someone who wants fun and opulence mated together.
1964 Shelby "Lindauer Cobra" – This car is the original one owned by Robert Lindauer who purchased it new in 1964. It is one of the few original Cobra models in existence and has been meticulously kept. While Lindauer drove it and he knew how to take care of it, this car has spent the last forty years up on jack stands in a climate controlled room where it was only run once in a while.
196 Ferrari 330 GT 2+2 Shooting Brake – This car is absolutely horrific, but that's part of its appeal. The car was sent from the factory to Vignale to be made into a wagon and it certainly was, but it should never have been. This car has survived for many years and been around as a car that caught the attention of many and has become a bit of a wart that the auto world can't get rid of.
This post may contain affiliate links. Meaning a commission is given should you decide to make a purchase through these links, at no cost to you. All products shown are researched and tested to give an accurate review for you.