Hyundai enthusiasts who have been waiting to expand the manufacturer's high-performance lineup to include an SUV should be thrilled to hear about the upcoming Hyundai Kona N. The Kona is already a well-loved subcompact SUV. After seeing the Veloster hatchback get an upgraded N option, it was only a matter of time before an SUV crossed over to the high-performance side. Whether you've just heard this announcement or have been patiently digging up information on the newest N edition, here's everything you need to know about the 2022 Kona N.
Supped Up Performance
Just like the newest N Veloster, the 2022 Kona N will be equipped with a stellar turbocharged 2.0-liter four-cylinder engine that pushed out 276 horsepower. When you need an extra jolt, press the red button on the steering wheel for ten extra hp for around 20 seconds. Unlike the conventional Kona, the N version won't come with a manual transmission option. Instead, it will be rocking an eight-speed dual-clutch automatic transmission that sends power right to the front wheels. Expect incredible and smooth handling, as the Kona typically drives like a sporty sedan. The Kona N should only increase how much fun you'll have on the road.
First-Class Interior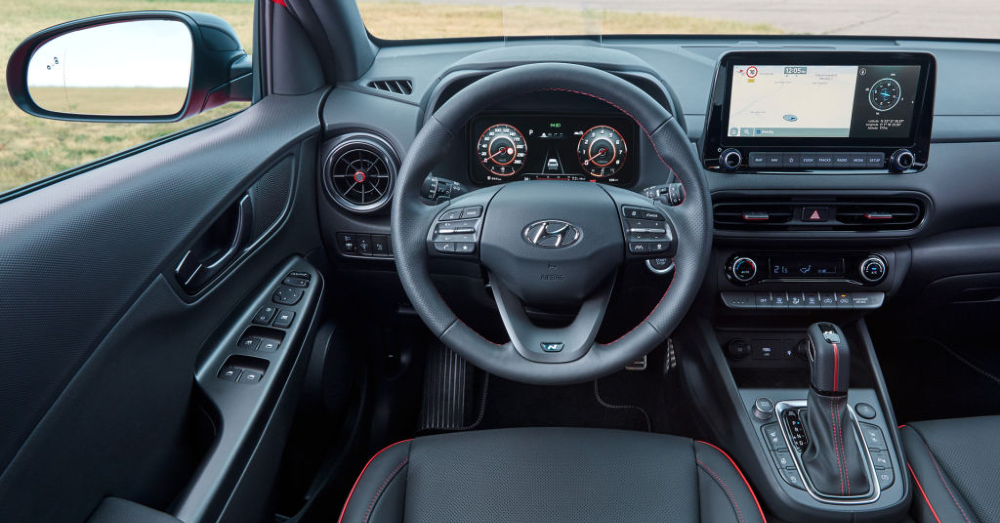 While no one has officially sat inside of the new 2022 Kona N, we're anticipating a next-level kind of comfort. The N series vehicles typically come with micro suede-covered seats accented with the signature performance blue color associated with N cars. On the dash, you'll enjoy a 10.3-inch digital gauge cluster and 10.3-inch infotainment screen. This powerful touchscreen will even include navigation containing track maps and lap-monitoring information. It's the little things that really make this beast stand out. To ensure all of your senses are treated to a first-class experience, there will be an option for an eight-speaker Harman & Kardon sound system. Treat your favorite playlist from your phone right to your premium audio setup. You can even keep that phone ready to go, thanks to the wireless charging pad.
Expert Safety
While the 2022 Kona N hasn't completed its crash test trials, drivers have high expectations for Hyundai's subcompact SUV. The conventional Kona typically tops the charts when it comes to safety, so the N version should offer no less.
To ensure that drivers can hit the road with confidence, the Kona N has a plethora of driver-assist tech already built-in:
Lane-keeping assist
Blind-spot monitoring
Automatic high beams
Adaptive cruise control
America's Best Warranty
Just like every other Hyundai on the road, the 2022 Kona N will come with an incredible warranty:
Five-year/60,000-mile limited warranty
10-year/100,000-mile powertrain warranty
Three-year/36,000-mile complimentary maintenance
And more
To learn more about the upcoming Kona N, reach out to your local Hyundai dealer. You'll definitely want to be the first person on your block to cruise through town in one of these.
This post may contain affiliate links. Meaning a commission is given should you decide to make a purchase through these links, at no cost to you. All products shown are researched and tested to give an accurate review for you.